About Cornwall
As an independent, family run business, our roots are firmly set in our hometown of Newquay in Cornwall. Oltco's HQ is located in this buzzing seaside town, conveniently positioned to service the whole of Cornwall.
Since 2004, we have built, developed and grown Oltco from our HQ in Cornwall to become the leading independent resin driveway company in the UK. Cornwall is the hub of Oltco's operations, including where our unique blends are developed, tried and tested. Although we now offer our innovative resin solutions across the UK, we are proud of our connection to the south west.
Our expert installation teams work across Cornwall to transform driveways, patios, pathways, balconies and pool surrounds using our innovative and award-winning resin bound and Recycle Bound blends for both domestic and commercial projects. Oltco Cornwall has worked with some of the leading tourist attractions in Cornwall including The Headland Hotel, Carbis Bay Hotel, Trevornick Holiday Park and the Eden Project.
Our Team
Leading the way at Oltco Cornwall is our expert Sales Support Manager, Kris Evans. You are likely to find Kris travelling the length and breadth of this beautiful county, visiting our customers and helping to plan their garden and driveway transformations.
Kris says: "I wanted to work for Oltco as Tom and Johnny have created a really positive culture within the company, demonstrating them as an exceptional employer. They care about their employees as much as their customers and it really feels like a family. Not only that, their eco-credentials and ethos are totally in line with mine and it's great to work for a company that believes in being sustainable and making a positive difference to the planet."
As Oltco Cornwall's Sales Support Manager, Kris is responsible for helping our customers to discover the potential of their property and is on-hand to share his knowledge with customers during site visits.
Tom & Johnny
For Co-Directors, Tom Stringer and Johnny Pearce, Kris is a major asset to the team as he is passionate about delivering outstanding results for his customers and truly embodies Oltco's values.
Johnny says: "Our ethos to 'feel good about the work that we do and the decisions that we make' is at the heart of the business and it's so important to us that our team are passionate their work and, more importantly, have fun.
"Kris is very much of that mindset and we couldn't be happier that he's stepped up to be the face of Oltco Cornwall. He's an asset to our team and we feel confident that with his can-do attitude and positivity, he will continue to lead Oltco Cornwall to success. We are certain the Cornwall franchise will only go from strength to strength with Kris at the helm."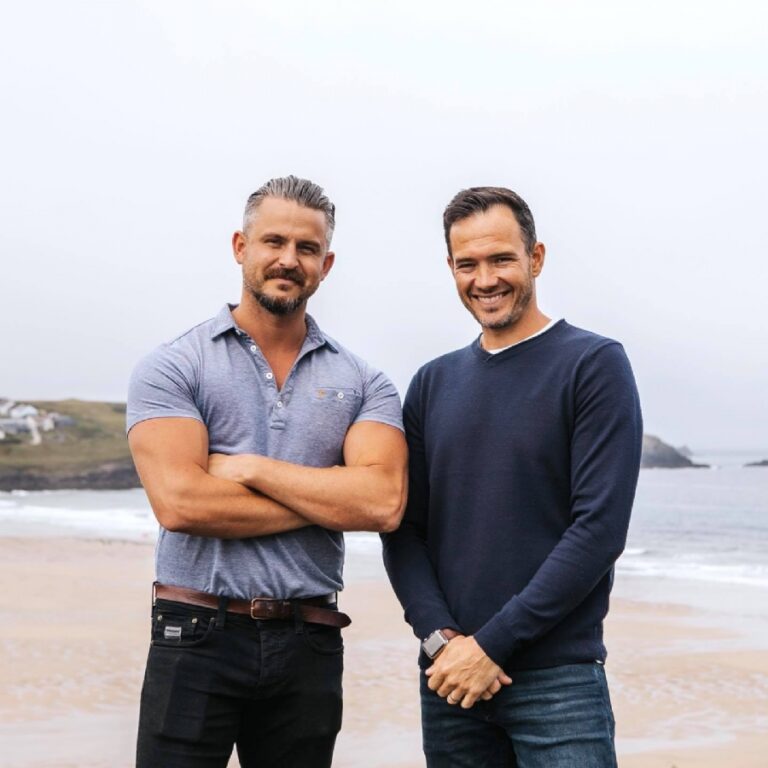 For me, life's all about happiness, spending quality time with my family. I feel so unbelievably lucky to live in beautiful north Cornwall, doing what I love and even getting to work with my best mate, Tom. This pursuit for happiness is what drives us at Oltco; not just for Tom and myself, but for the whole team. This ethos translates to our business decisions too, we have to be 100% happy with the choices we make, both for ourselves and for our clients. We love what we do.
The Oltco Process
Our quick and easy process from your enquiry to aftercare where the Oltco team will look after you and your project.
1
Enquiry
Once you've contacted our team at HQ, a member of staff will ask you a series of questions related to your project and they will then qualify you over the phone.
2
Site Visit
If you are happy with the estimate given by the team, we will send your details to your closest franchise where they will get in touch to arrange a free visit.
3
Installation
After your deposit invoice has been paid, your franchise team will book in your installation. If groundworks are required this will also be booked at the same time.
4
Aftercare
Once your installation has been completed and the final invoice paid, HQ will send out an aftercare pack with your maintenance instructions and warranty document.
Recent Projects
A collection of our projects showcasing what we have delivered.
Meet the Cornwall team
Tom trained as a mining engineer at Camborne School of Mines and consequently has a wealth of technical expertise behind him. He leads Oltco in the development and testing of innovative new resin solutions whilst also mentoring and training our team to be the very best.
John joined Oltco in 2011 and has helped to lead the company's growth and development in recent years. John heads up our sales team ensuring that Oltco is always able to offer unparalleled customer service and incredible resin results for both domestic and commercial clients.
After joining the Oltco team in 2014, Corinna has become integral to the growth of Oltco across the UK. Corinna is at the centre of the business and her expert knowledge in resin solutions is second to none, helping clients to completely transform spaces.
In her role as Admin Assistant, Diane helps Corinna with the day to day running of the Oltco office. Diane originally started with us as an apprentice and is now an integral part of the team.
Oltco's Resin Bound Colour Options
With a spectrum of colour options to suit both traditional and contemporary tastes, Oltco is able to create a resin bound driveway solution which perfectly matches your property's individual style.
Ready to get your project
started?
If you'd like to find out more about our products, colour ranges and the other options that we offer, please complete the form on our contact page and your local Oltco team will be in touch.
Get In Touch